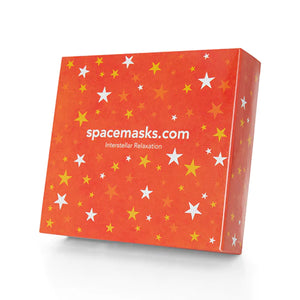 Orange Spacemasks Box (Orange and Grapefruit Scented)
Regular price
£16.50
£0.00
Unit price
per
This box contains 5 pouches.  Each contains a self-heating eye mask which will transport you to another dimension - relieving tiredness, eye strain and many other Earthly tensions.  The warmth comes alive as soon as you open it.  So make sure you're fully reclined and ready for lift off. 
Instructions 
Open the pouch and unfold your mask.  Gently place the Spacemask over your eyes and fit the loops around your ears.  
Within a couple of minutes you will feel your Spacemask heat up as the oxygen molecules in the atmosphere cuddle up to the mask's iron particles in a natural heat exchange.  
It is totally safe. The ever so relaxing scent is in a low concentration. So you can enjoy its fragrance without irritating the skin.
Drift off as you enjoy approximately 15 minutes of other-worldly warmth while your mind floats in space. 
Return to planet Earth.  Reconnecting with Earthly matters may take a little longer... 
There are detailed instructions on the box and the pouches.
The pouches have a generous best before date, doubt it will come to that! ;-) 


** Available singularly too! ** 
---
Share this Product
---